Anita Hegerland is back with a stunning new rock album: Starfish. The album is produced by guitar legend Ronni Le Tekrø of TNT, and Anita's band consists of musicians with impressive CVs, almost like Anita herself.
Anita's new album STARFISH is made up from warm, melodic songs, mainly in styles like powerpop and hard rock. The lady really is hard rocking!
Anita is available for performances and concerts in Europe. Send her an email specifying the preferred date and location!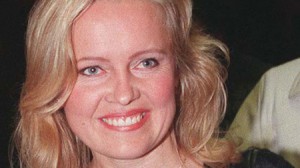 After 37 years in the music industry, Anita Hegerland is still the most selling solo singer in the Norwegian recording industry. Anita has sold more than 6.8 million records, and her songs have been released on more than 23 million compilation albums and cd´s worldwide.
Anita was born in Sandefjord in Norway in 1961.
She was discovered by the Norwegian entertainer and song writer Fredrik Friis during a Christmas show where Anita performed in public for the first time, only 8 years old.
The Norwegians took Anita instantly to their hearts and she became «the little darling» of a whole nation.
With her natural way she gained a lot of respect from fellow colleagues and big orchestras in several countries, who was highly impressed by her musical talent and sense of rhytm.
Only 6 months later her first album was released and became an instant, big success and Anitas breakthrough in Norway..
One year later Anita repeats her success, this time in Sweden.
Anita had a huge hit with the song «Mitt Sommarlov», only nine years old.
For an amazing 26 years Anita had the record in Sweden as the performer with the longest stay, on the prestigious Swedish topselling albums-list, Svensktoppen.
" Mitt Sommarlov " is an evergreen  in Sweden to this day, and is frequently used in tv-commercials, released on compilation albums and played frequently on the radio etc.
In 1971 Anita had an amazing breakthrough in Germany.
Together with the popular German singer Roy Black,  Anita released the song
» Schön ist es auf der Welt zu sein » which was a monster-hit in Germany.
The song sold in more than 2 million copies, whereof  more than 1,3 million copies
where sold in Germany alone!
This song became an evergreen  in Germany and has on many occasions been voted the most popular schlager in Germany ever!
Between the age of 8-13 Anita was hugely popular in Norway, Sweden, Denmark, Iceland,
Germany, Switzerland, Austria, Belgium,  Netherlands, Luxembourg and Bulgaria.
She participated in all the major TV-shows in these countries,
These are some of the biggest ones:
In Bulgaria in 1969 together with Josephine Baker on " The Golden Orpheus Festival ", where Anita received an award.
Unicef Gala in Haag together with Danny Kaye, Petula Clark and Lulu.
The popular Norwegian outdoor fair Tønsbergmessen in 1971 together with Inger Nilsson
( Pippi Longstocking ).
( Anita had the record at Tønsbergmessen for 25 years with more than 22.000 people ).
During these same years Anita guested all the major tv-shows in Germany, Sweden and Norway.
Together with Roy Black she also starred in 3 German movies.
Between 1974-1980 Anita took a brake from the music arena to concentrate on school.
In 1980-85 Anita toured in Norway and Sweden and visited more than 350 places.
In 1982 Anita made her fourth movie, playing a major part in a Norwegian comedy together with Rolv Wesenlund and Elsa Lystad, called " Deilig er fjorden ".
In 1984 Anita met  the British musician and composer Mike Oldfield in Drammenshallen in Norway on his world tour, and she gave him some songs during a dinner meeting.
One year later he calls her up and wants her to sing on his song " Pictures in the dark ".
This was the start of a six year relationship between them.
They travelled to Bali together to record the video album " Islands ".
In Barbados they recorded the video to the singel " Shine " sung by Jon Andersen ( YES )
In 1986 Anita moved together with Mike Oldfield and they lived together in Switzerland and France before finally moving to Buckinghamshire outside London.
In 1985/86 " Pictures in the dark " became a huge hit and went to No.1 in Germany and many other countries in Europe.
The video was played extensivly on MTV.
Also on the albums » Islands «(1987) and » Earth Moving » ( 1991), Anita played an important role, singing 4 songs.
Anitas song " Innocent " was the big hit on the " Earth moving " album and went to No. 1 in Germany and several other European countries.
During these years Mike and Anita performed in many of the major halls and tv-programs in Europe.
These are some of the major ones:
( Peters Pop show ( Germanys biggest ever tv-show) twice, together with Mike Oldfield, which was broadcasted worldwide to 250 mill. viewers, together with many international stars like Bryan Adams, Whitney Houston, Natalie Coole, Bryan Ferry, Manfred Mann, Bonnie Tyler, Ultravox),
Wetten Dass ( Germanys most popular and biggest tv-show with the famous host Thomas Gottschalk and with 30 mill. viewers together with Mike Oldfield and Julian Lennon.
Diamond Awards in Paris together with Cher, Birgitte Nielsen and Princess Stephanie of Monaco.
The Royal Variety Show together with Phil Collins, Michael Palin ( Monty Python ).
Anita has two children together with Mike Oldfield, Greta (1988) and Noah (1990).
Mike and Anita split up in 1991 after living together for 5 1/2 years, and Anita, Greta and Noah moved to Norway.
In 1994 Anita met her Australian fiance, sound engineer Jock Loveband ( Shirley Bassey, Patricia Kaas, David Gilmoure, Sting, Gåte, Tungtvann, Metropolitan, Furia, Silje Neergaard,
Finn Kalvik, Folk og Røvere, Sissel Kyrkjebø, Savoy, Helge Iberg, Nils Petter Molvær, Madrugada.
They live together in Norway and have a daughter, Kaja (1999).
Anita has received prestigious awards from several European countries.
She has starred with major parts in 5 movies.
( 3 German, 1 Norwegian and 1 Norw./American/English ).
On several occasions Anita has been invited to America to start a career there, but her parents turned down the offers when she was small, and so did Anita when she was an adult.
Anita is the most successful » child star » in all of Scandinavia ever.
She was voted by people as the most popular singer of the year twice in Germany.
( She received Der goldne Löwe together with Roy Black from Radio Luxembourg ( 1971 ) and was voted by the readers of Stern Magazine as their favorite singer on TV (1973) and received a gold disc (more than 400.000 sold copies) in 1998 for the compilation album
» Der 50 grössten Schlager-Hits »  from Schlager-Bild.
This was given to Anita in a big TV-show in Germany together with many German stars.
Readers of the newspaper voted » Schön ist es auf der Welt » the biggest schlager ever in Germany, so Anita received the gold disc for herself and on behalf of Roy Black who sadly died in 1991.
In 1994 Anita starred together with her Norwegian colleague Sissel Kyrkjebø in the popular German tv-show " Fernsehgarten ".
Anita has participated in countless prestigious TV-shows and Radio programmes throughout Europe,  and has been touring with several bands over  the years.
She has performed for several members of the Royal family in different European countries.
Anita Hegerland has received  altogether 25 platinum-, diamond-, gold- and silver disc
trophies for her work and sales.
Anita was working in a small Norwegian multi-media company called Pinjata, from 2000-2002.
» After giving birth to my last child Kaja, I really wanted to do some work with children again.
I feel I'm back where I started, producing quality for children » said Anita.
Pinjata had created two rabbits called Josefine and Sofus.
They had become hugely successful in Norway and had sold more than 180.000 copies of the CD-ROM games, in the Play and Learn field.
Anita composed songs for the games and also co-wrote the storylines in the games.
She was responsible for all contact with tv/radio/media/music and was also involved in sales.
One of Pinjata's titles » Josefine on holiday » was nominated by Europrix Expo Arte in 1998, as one of the three best CD-ROM games in Europe, in the Play and Learn field.
There were nearly 600 entries participating in this competition from 30 countries.
Anita was invited to 3 major tv- shows in 2003, and they were all big sucesses  for her.
The award-winning tv-series " Die Goldne Siebsiger " on the German RTL tv- channel together with Rudi Carrell and Baccara ( 6 mill. viewers ) broadcasted in November 2003.
Anita was invited to the hugely popular " Diggiloo " on Swedish SWT1 channel together with Ann-Louise Hanson ( 2 mill. viewers ). Broadcasted on the 23rd December 2003.
Anita was also invited as one of the major guests in the popular tv-series " Gylne Tider " on TV2 in Norway. ( app. 800.000 viewers ). Broadcasted Dec 2003.
Anita took a year off  in 2003 to concentrate on composing new songs for her new album which will be released in 2004, and to prepare concerts for a tour she will be doing that same year, and also to start preparations for her 35th anniversary in music in Germany in 2006.
In 2004 Anita will celebrate her 35th Anniversary in the Norwegian music industry.
In 2005 it is 35 years since the monster hit " Mitt Sommarlov " was released in Sweden